BigBlue introduces new superduper Smart Watch named "Sumo Watch" (April Fool)
2015/04/01
[
日本語ページ
]
***** April Fool Article *****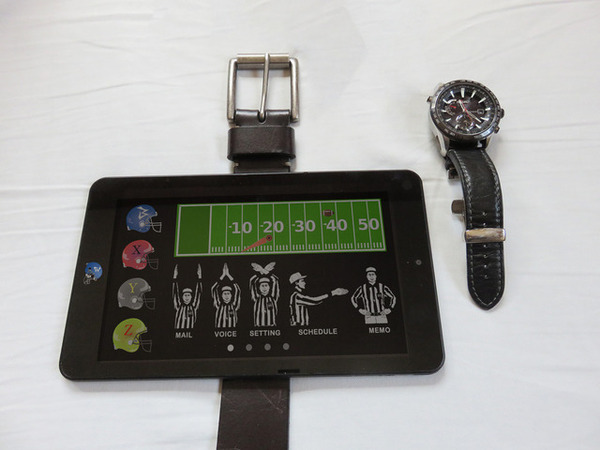 "Smart Watch" has already been an ordinary tool in a life. BigBlue introduces new era of large size smart watch named "Sumo Watch
®
" for BIG people such as football players.
Remarkable features of the Sumo Watch
®
are:
The Sumo Watch

®

is much larger than a typical watch and will be the best fitting companion on the muscular arm of such OL/DL players
The large size screen will provide the best readability and visibility even through your eye-shield and facemask grids
The reinforced leather belt will be never broken even under any rougher and harder play so that you will be able to use the Sumo Watch

®

anytime and anywhere
Quick access ICONs to the rival teams aliened at the left edge will give you information necessary to beat rivals easily and efficiently
Newly designed "Field Clock" (patent pending) is the new way to manage your time table. The current time can be indicated by the combination of the yard chain ICON for time indication and the ball ICON for minute indication. The time on the screen above is 9:35 for instance.
The yard chain ICON for time indication moves between the 1-yard and the 12-yard for the 12-hour clock, and between the 1-yard and the 24-yard for the 24-hour clock.
The ball ICON for minute indication moves between 50-yard (center line) and the end zone. After the every fifty minute, the ball ICON moves into the end zone and shows TD dance every minute that will give Offense player a glorious time. For Defense player, the setting option that the ball ICON never passes the goal line is also available. By enabling this option, the ball ICON bounces between the goal line and the 1-yard line until the time becomes on the hour
Referee Signal ICONs allow you to access the in-box features and functions. So you will be able to learn football rules and hand signals unconsciously while you use the device. That will also improve your confidence in the games.
The BigBlue's helmet button is placed as the Home button. This will present your BigBlue favor to neighbors politely and gently.
As the BigBlue's special sale for this time only, the list price of Sumo Watch
®
is just US$149.99 (tax included, S&P charge exclusive). The Sumo Watch
®
will be available at any distributer nationwide on April 1st. In addition, BigBlue Fan Club member will be able to receive the special campaign coupon that discounts 99% from the list price. Join the BigBlue Fan Club now and get the world strongest and largest "Sumo Watch
®
" immediately!
« スマートウォッチを超える、スモーウォッチをBigBlueが開発 (April Fool) | Code of Conduct at Fujitsu Stadium Kawasaki »